CEEMAN International Quality Accreditation Awarded to OYAGSB
We are delighted to announce that the CEEMAN International Quality Accreditation (CEEMAN IQA) was awarded to Othman Yeop Abdullah Graduate School of Business, which is part of Universiti Utara Malaysia.

Othman Yeop Abdullah Graduate School (OYAGSB, or the School) is a significant part of Universiti Utara Malaysia (UUM), which was first formed in 1984 after gaining approval from the Malaysian cabinet in the year before. The first PhD and MBA programmes were launched in the 1990s, and both UUM and the School are under the audit and control of the Malaysian Qualification Agency. While being located in Sintok, the School has been delivering its educational programs in Kuala Lumpur since 2005, which has been a significant step both for staff as well as for student recruitment. The school holds the following accreditations:
1) ABEST21 (The Alliance on Business Education and Scholarship for Tomorrow's 21st Century Organisation) since 2015;
2) AMBA since 2015 and AACSB since 2016.
Concerning knowledge creation, the Peer Review Team (PRT) for OYAGSB welcomed that the School places high importance on research. OYAGSB has established the Institute for Leadership Innovation and Change, which provides support for producing high-impact and quality research that is rigorous, practical, and relevant. OYAGSB also prioritizes combining academic and practice-oriented research with education by encouraging resident faculty members to develop and integrate local, relevant cases in their curricula. Moreover, most OYAGSB staff are publishing in practitioner journals, which is regarded as highly commendable considering its contribution to knowledge transfer. Another significant approach is that the School closely collaborates with representatives from the business world, which offers both OYAGSB staff and students numerous opportunities for research and similar endeavours.
To attain optimal knowledge transfer, OYAGSB has introduced various learning and teaching methods such as using both local and international case studies, and blending theoretical with more practical approaches. To gain a better understanding of what is currently happening at the forefront of business and what insights can be drawn from corporate partners, students have the opportunity to hear from a wide range of industry leaders and practitioners throughout the course of their studies. Besides their more traditional programs, the School has recently introduced a lot of new additions such as revised MBA programs that feature personal coaching, and tailor-made programs. Furthermore, the PRT offered high praise for the School's approach to creating a positive student experience: the teaching standard is high across the board and is being maintained by means of evaluation forms that engage the students. The program outlines are well structured and the availability of online learning packages and the broad use of blended learning is regarded as a commendable way of enriching the process of knowledge transfer.
Finally, when it comes to the commitment of OYAGSB to responsible practices, a standard of CEEMAN IQA that has been defined as an institution demonstrating responsible practices through education, research and institutional behaviour, OYAGSB was lauded for incorporating elements of corporate social responsibility, responsible leadership and business ethics in all its programs. Sustainability is deeply embedded in the mission of the School as well, and the servicing of local community projects follows that standard. In 2016, UUM was the Global Gold Winner of the Green World Awards 2016 for Education and Training category, and it is committed to the principles of the Environment Management System certification. Notably, OYAGSB is one of the signatories of UN PRME and hosted the fifth UN PRME Regional Forum in November 2014, during which the School was appointed as the Secretariat for the ASEAN+ Chapter.
Based on these findings the CEEMAN Accreditation Committee awarded the CEEMAN International Quality Accreditation to Othman Yeop Abdullah Graduate School of Business on April 24, 2018.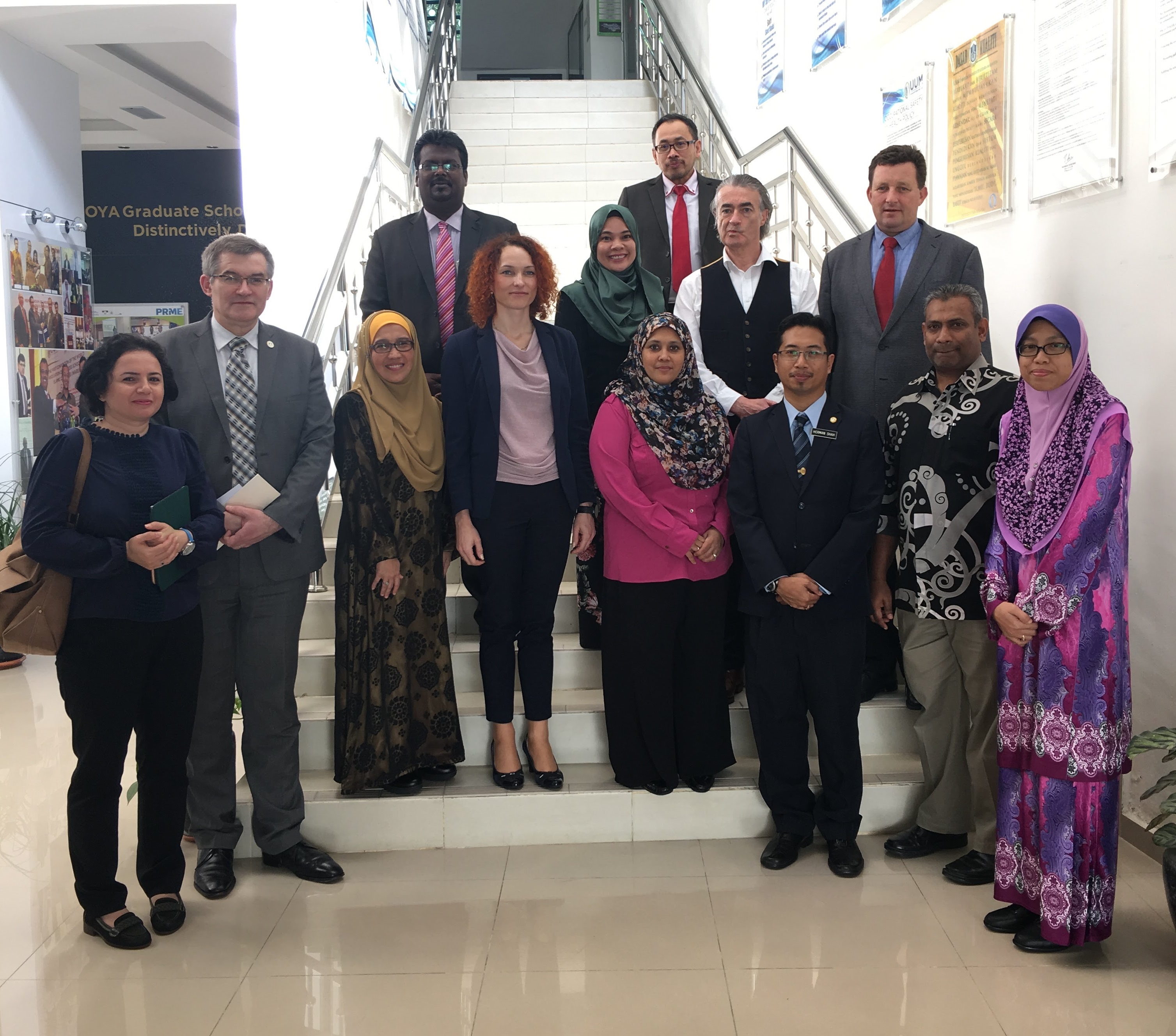 CEEMAN's Peer Review Team during their OYAGSB site visit in Sintok, Malaysia